Published: 02-05-2017
Our Evidence Maps save you time and money in finding relevant citations for model parameterisation or value dossiers, identification of evidence gaps, and for early business development planning.
We use the indexed content of heoro.com to generate the Evidence Maps using pre-programmed categories, with additional categories added manually as part of the bespoke service by medically qualified experts experienced in health economics and outcomes research. The Evidence Maps are displayed as an interactive Excel workbook, with users able to display the studies by each topic or field of interest in turn.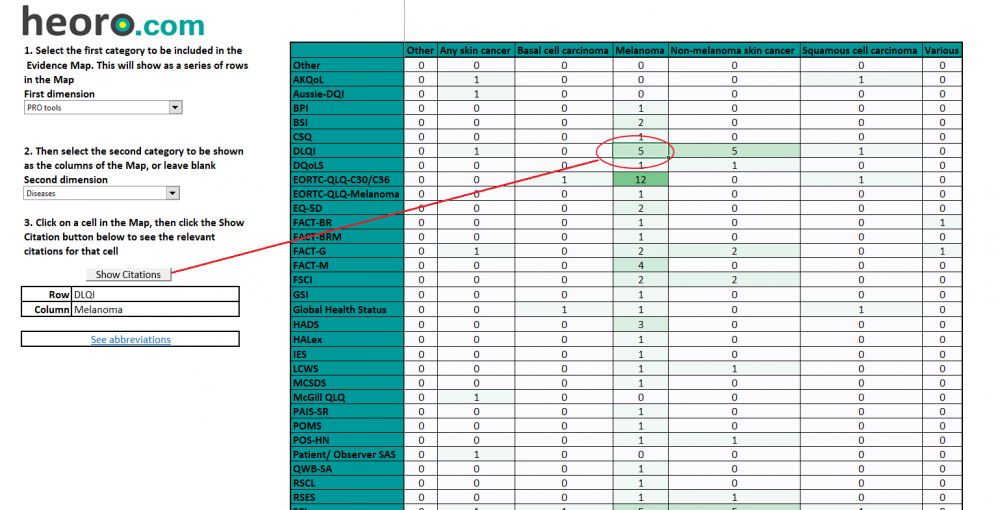 Each cell in the table shows the number of relevant abstracts identified for that subcategory, and users can easily access the relevant citations cell by cell.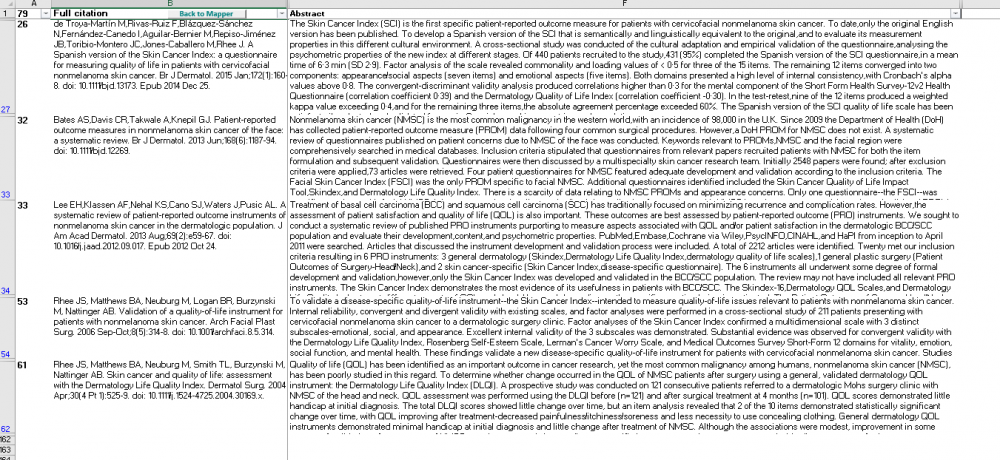 Each Evidence Map is based on one or more of the major study types available within heoro.com:
Costs and resource use
Economic models
Mortality
Patient-Reported Outcomes
The content of each Map is sorted by a series of pre-programmed categories available within heoro.com, some of which are generaliseable to all maps and others relevant to just one major study type. Each map can be displayed using one or all of the relevant pre-programmed categories, as follows:
General categories
Publication date (from 1960, usually displayed in 5-year groups from 2000 onwards)
Geographical location (by country)
Disease area
Intervention
Population (age groups, ethnic groups)
Costs and Resource Use studies
Direct costs
Indirect costs
Resource use
Treatment patterns
Adherence
Economic modelling studies
Cost-benefit models
Cost-effectiveness models
Cost-utility modles
Other economic models and analyses
Patient-Reported Outcome studies
PRO instruments
Validation studies
Utility studies
Other bespoke categories can be added by agreement, for example modelling perspective for an economic evaluation, type of PRO instrument (general, disease-specific, comorbidity, caregiver, work-related etc.), or mortality rates or trends for a particular disease.
Free sample Evidence Maps:
We have generated a number of free sample Evidence maps that are available to anyone who wants to see more:
To find out more about our Evidence Map service, please email alison.martin@crystallise.com.
Costs and timelines
Although development of all our Evidence Maps is overseen by medical graduates with experience in Health Economics and Outcomes Research, the content is based on our automated indexing of heoro.com abstracts, and we have semi-automated the production of the Maps themselves. This means that we can offer our Evidence Map service at very affordable rates within rapid timelines.
A standard Evidence Map based only on pre-programmed categories, will usually be delivered within 1 week of receiving a signed quotation form confirming the order. Evidence Maps that include bespoke categories may take a little longer to deliver, but timelines will be confirmed at the time of ordering the Maps.
Costs of the service are based on the number of study types requested for each Map, and by the number of relevant disease areas or interventions.
One disease area or intervention, one study type: £5,000 (ex VAT), for example PRO studies in hepatitis C, Economic models of infliximab
One disease area or intervention, two study types: £7,500 (ex VAT), for example Costs and resource use plus Economic models for pancreatitis
One disease area or intervention, three or four study types: £10,000 (ex VAT), for example PRO studies, Costs and resource use plus Economic models in multiple sclerosis
You can now use the heoro.com Evidence Mapper site to test out your search until you're happy with the results, then order an Evidence Map of the final search results. Try it out for free here.
To discuss more complex maps involving multiple disease areas or interventions, please contact alison.martin@crystallise.com or call +44(0)1375 488020.